Sounds like the future at Brent Cross Town
February 1, 2021
When you build a new community you want to have a sound plan for the future.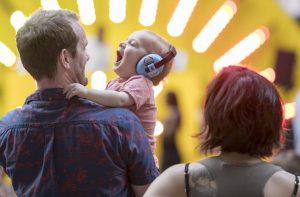 Which is why Brent Cross Town will be the first-ever major development in the UK to have a sophisticated approach to music and sound influencing both its design and operations.
Brent Cross Town developer Argent Related has created a bespoke 'sound framework', with key locations being mapped out for 'positive sound creation opportunities', while mitigating negative noise.
The new town is being landscaped to protect and amplify natural sounds, such as birdsong, subtle insect noise, and the sound of water. Other public spaces are being created specifically for live performances, are will be linked to audio networks with sustainable power networks.
Offices in Brent Cross Town are involved in the scheme too, with natural materials being used to reduce disruptive acoustics, stairwells programmed with pleasant soundscapes to 'nudge' employees to use them, and areas designed for quiet meditation and music. Argent Related will also work closely with office occupiers to develop sound and music programmes aimed at enhancing wellbeing and productivity.
And residents will benefit too, with homes designed for sound, music and good acoustics. Some spaces will include technology to access live-streamed activities such as music lessons, guided meditation, or yoga.
The strategy might seem futuristic, but it is in line with leading medical thinking and fits with the ethos of excellence that underpins the Brent Cross Cricklewood development. In November 2019 the World Health Organisation officially recognised the health value of music, following a review of over 2,000 research studies – music reduces stress, increases serotonin and dopamine to improve mood, and helps the brain learn.
Brent Cross Town is an ambitious scheme to build a brand-new community in north London. The joint venture between Argent Related and Barnet Council will include 6,700 new homes, retail and office space, as well as improved schools and greenspaces in the area. Early work started on site in early 2020 and construction is also underway on the new Brent Cross West station which will be completed by the end of 2022.
Councillor Daniel Thomas, Leader of Barnet Council, said: "Argent Related continue to bring innovative ideas and initiatives that will make Brent Cross Town like no other area in London or the UK. The music and sound strategy is one of the unique ways Brent Cross Town will deliver on its vision to make Barnet's new park town a place where everyone can flourish."
Nick Searl, Partner of Argent Related and Joint-Lead of Brent Cross Town, said: "Brent Cross Town's sound and music strategy is an exciting concept and one that we are really proud to debut in the UK. In setting out our vision for Brent Cross Town, we have been very clear in our mission to create a flourishing new town centre for London that values the wellness of both communities and individuals.
"We are fortunate that Brent Cross Town is already home to 50 acres of parks and public spaces. Our ambition is to enhance the benefits of being in these spaces by consciously layering in sound and music and enhancing our sensory experiences."