Brent Cross West station, due to open in 2022, will be the first major new mainline station in London in over a decade. It will be positioned on the Midland Main Line between existing Hendon and Cricklewood stations enabling through journeys from Bedford to Brighton.
It will take just 12 minutes for passengers to reach Kings Cross St Pancras from Brent Cross West. Kings Cross St Pancras is central London's best-connected transport hub with direct rail access to Europe via Eurostar.
At peak times, there will be up to eight Thameslink passenger trains per hour linking to Kings Cross St Pancras. In another three minutes, passengers will arrive in Farringdon for Elizabeth Line services (Crossrail). There will also be direct connections to Luton and Gatwick airports.
It is expected that over two million journeys will be made by people from the station in its first full year of operation, rising to five million once the Brent Cross Cricklewood regeneration programme is fully completed in 2031.
There is also agreement to provide passive provision at Brent Cross West for the planned West London Orbital (WLO) line, which would provide additional cross-London services, and potential links to the HS2 line to Birmingham, Manchester and Leeds. 
Work has now begun on the station's eastern entrance, an ambitious and visually stunning project which has sustainability and environmental innovations at the heart of its design. The completed building will feature a roof canopy of glazed panels resting on timber columns, vines connected to groundfloor planters by a wire trellis system, and ornamental trees in the entranceway.
Over the May Day bank holiday installation began on the first part of the Eastern Overbridge, which will open to the public at the same time as the new station in 2022. This is a 150-year landmark, as it will provide the first pedestrian and cycle access across this stretch of the Midland Main Line since it was first built in the 19th century.
The complete bridge will be 60m long, weigh 77 tons, and be coloured battleship grey. It was built off-site in Doncaster and is being delivered to site in two full-length trusses, being lifted into place using a 750t mobile crane.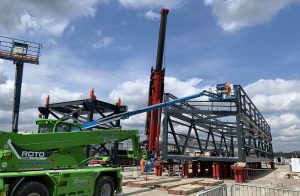 Work commenced: Spring 2020 (following planning approval)
Contractors and contact details: VolkerFitzpatrick
Work includes:
Demolition of disused train storage shed.
Construction of new train station.
Construction of four platforms (two for stopping trains, two as emergency platforms for fast trains which need to stop).
Installation of new pedestrian footbridge with lift and escalator access.
Current works overview:

Piling work was completed on the station on September 10, and we expect forthcoming works to be much quieter than they have been to date.
Key construction activities on the main station include drainage installation, structural steelworks to the platforms and station concourse, and concrete platform installation.
Groundworks are being completed for station buildings and lift shafts, and the building structure completed.
These works will take place on weekdays and weekends, including Christmas Day, Boxing Day the 27 and 28 December, New Year's Day and 2 January, and will continue until May 2022.
We surround any noisy equipment, such as piling rigs and pneumatic drills, with acoustic barriers where possible.
Please see our programme of works, including planned out-of-hours working, from December to February here.