Sustainability
Sustainability is at the heart of the Brent Cross Cricklewood regeneration programme. From how we are designing the programme, to how we build it and the materials being used, to how we envision the park town evolving in the future, we want to leave a sustainable legacy.
Here's how we're doing our bit to create a sustainable borough, fit for the future.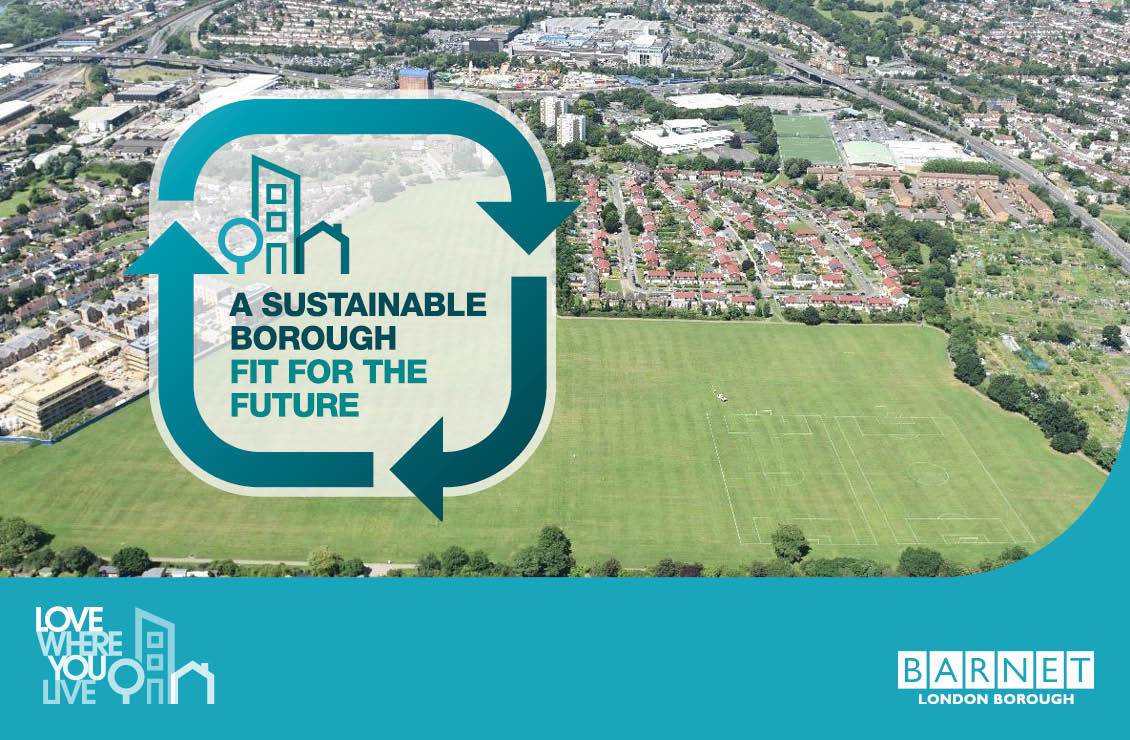 A VIBRANT NEIGHBOURHOOD TOWN CENTRE
Brent Cross Town, the new park town at the heart of the Brent Cross Cricklewood regeneration scheme, is carefully designed to enable our community to walk from home to school, work, public transport, shops and places of leisure within 15 minutes, reducing the carbon footprint of the new community.
Related Argent commissioned a survey by insight agency Copa which found that close to 60% of UK residents agreed that lockdown had enhanced their love of their immediate area.
Enhancing green spaces
More than a quarter of Brent Cross Town will be public green spaces.
Brent Cross Town will incorporate 50 acres of parks and playing fields, including eight public squares, and seven new and improved parks, meaning a net increase in the amount of green space for the public. We are working to engage members of the public with that green vision too – read about our consultation on Clitterhouse Playing Fields here.
Throughout the town centre there will be trees and other greenery planted, encouraging greater biodiversity whilst protecting the local environment and wildlife habitats. Over 700 new, mature trees will be planted across Brent Cross Town, in parks, the town centre and Claremont Park, which opened spring 2022.
Sustainable Construction
From the new town to Brent Cross West station, sustainability is also key to how we build.
The Brent Cross Town Visitor Pavilion has been constructed using cross-laminated timber (CLT). CLT cuts carbon emissions as it is made of renewable wood – often from reforestation – produces low waste, and provides excellent insulation, so buildings made with CLT are naturally more energy efficient from the get-go
Everything that is produced from the demolition to build Brent Cross Town has been crushed and used elsewhere on site. Concrete and brickwork from the first demolition in 2019 has now been re-used three times. And by reusing material instead of disposing and importing, it's estimated that the earthworks strategy has reduced the number of lorry journeys by 15,000.
Also at Brent Cross Town, a deal has been signed with Vattenfall Heat UK to provide low-carbon heating to homes, shops, and other businesses across the development. The 8MW district heating system will be the largest installation of its kind in the UK, and the firm continue to work with Barnet Council and developer Related Argent with a view to eventually removing all CO2-emitting sources.
As well as other low carbon and zero carbon heat sources, air supply heat pumps will provide over 80% of heat to the new town's homes and businesses.
In January 2023, Brent Cross Town unveiled a new permanent public artwork called Here we come, here we rise created by London-based artist, Lakwena in collaboration with architects, IF_DO. The substation will supply electricity to all of Brent Cross Town, including the 6,700 new homes, 3 million sq ft of offices and new retail and leisure spaces, as well as to the low-carbon district heating and cooling networks operated by Swedish energy company Vattenfall. Brent Cross Town will source all electricity supplies within its control from 100% renewables sources.
During construction of the substation, engineers Arup also focused on minimising the environmental impact of the structure, using structural steel salvaged from unused oil pipelines reducing the amount of carbon released by over 40%. The concrete used is a combination of low cement concrete and new cement-free 'Earth Friendly Concrete.'
The project has also brought back to life a piece of ex-industrial land with the creation of a newly landscaped embankment designed by Gillespies Landscape Architects. It has been planted with trees and a wildflower meadow to increase biodiversity and enhance local wildlife corridors.
We also revealed plans for the Eastern Entrance of Brent Cross West station. From the moment passengers set foot into the new station they will see the green focus, with vines connected to ground floor planters by a wire trellis system, ornamental trees sitting in the entranceway, and extensive planting and other ecological enhancements throughout the station.
The station eastern entrance is built with glulam timber, which provides a sustainable alternative to steel or concrete for the construction of the roof as it consumes less energy during the manufacturing process.
Sustainable transport
How we get from A to B will be key to sustainability in the future.
The new Brent Cross West station provides the gateway to the new development, with up to eight trains per hour during peak times. It will offer links from central London in as little as 12 minutes.
The station will also be able to accommodate the planned West London Orbital (WLO) line in future, which will provide additional cross-London services. If this line gets the green light, it would take vehicles off some of the country's busiest roads including the North Circular – the UK's most congested highway.
Brent Cross West is being integrated with other forms of sustainable transport too. The eastern entrance building will offer cycle parking for 68 bikes, whilst the new overbridge, part of the new station, will offer a pedestrian and cycle route across this part of the Midland Main Line for the first time since it was built 150 years ago, linking our communities.
And the station's eastern entrance will open into the transport interchange in the Station Quarter, which will be integrated with new walking and bus routes, making sustainable travel easy.
Across the wider Brent Cross Cricklewood regeneration area there will be new pathways, an improved network of walking and cycling routes, and improved bus services. New roads that are designed to slow traffic and prioritise pedestrians. And provision is being made not just for electric charging but for other technologies as they emerge to create the infrastructure for people to take up more sustainable forms of transport.
BarNET ZERO
Barnet Council is committed to achieving net zero carbon as a council by 2030
As a community in Barnet, we all have a responsibility to protect our planet and ensure a sustainable future for generations to come. BarNET ZERO is a campaign focused on reducing our carbon footprint and lessening the impacts of climate change.
Barnet Council is committed to achieving net zero carbon as a council by 2030 and as a borough by 2042.
By working together, we can make a difference to alleviate the negative impacts of climate change on our environment, and for future generations to come.
Find out more how Barnet Council is taking steps to protect our planet at: Our journey to becoming net zero carbon | Engage Barnet