Station teams' charity football tournament
November 2, 2021
Staff who are building Brent Cross West station swapped their work boots for football boots on Tuesday 28 October, with a charity football tournament in aid of Homeless Action In Barnet.
Employees from companies including VolkerFitzpatrick, Mace and Galldris took to the field at Whitefield Secondary School to play a series of five-a-side games, with staff from Barnet Council and Galldris on refereeing duties. Even local businesses got involved, with the Mace side being joined by Frank Addison from Quint Solutions, a company which specialises in construction recruitment.
As well as digging out their shinpads, the players dug deep into their pockets, as each player made a £15 donation to Homeless Action In Barnet to take part in the matches. Around £250 has been raised so far.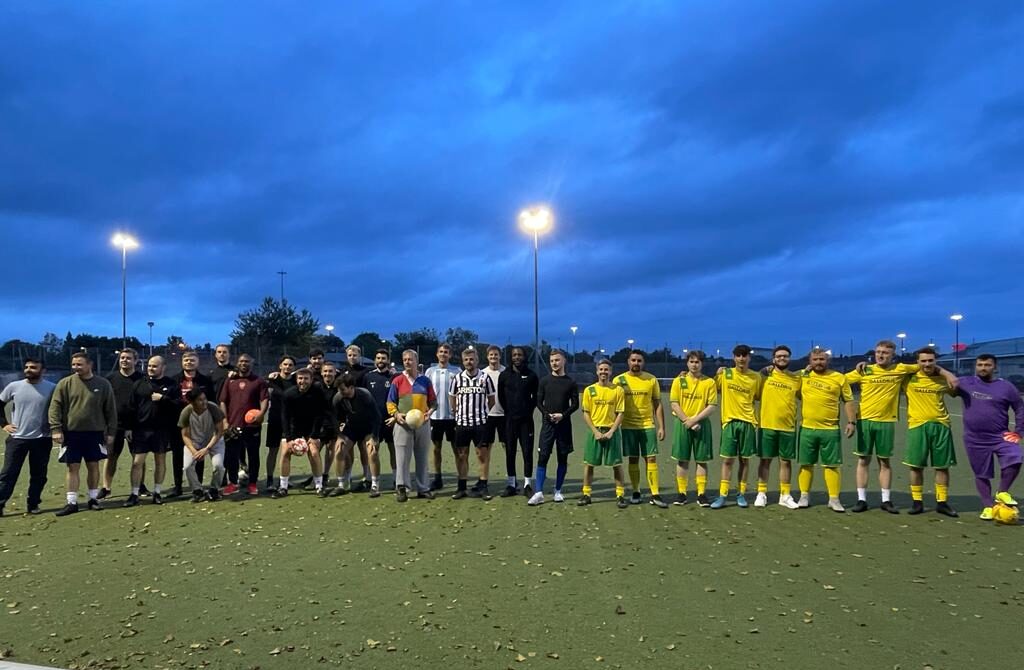 The games took place on the school's all-weather Astroturf pitch, and as evening fell the decisive matches were played under floodlights.
One of the two sides entered by VolkerFitzpatrick ran out as winners, captained by workplace manager Calvin Howe.
He said: "The main thing was why people turned up after work in their free time to play a game of football – because it was for a good cause.
"Homeless Action In Barnet really touched us all with the great work they are doing for local people, and everyone wanted to do their little bit to help.
"My inbox was flooded by requests to play, and we are planning more games, so we look forward to raising a lot of money."
Scott Wilkins, project manager on Brent Cross West station for Mace and head coach of the company side, said: "We already have a great team building the new station, but this is a chance for us to get our kits on, have some fun, and raise money for a great cause.
"Some of the people working on the station have played to quite a high standard, and others of us… haven't! But what really matters is that everyone enjoyed themselves.
"I'd like to give a particular 'Thank you' to Whitefield Secondary School for providing their pitch for us to play on. And, of course, to everyone who took part or supported us."
You can donate to the fundraiser here.
To find out more about Homeless Action In Barnet click here.